Is Creative Stationary Design Essential?
Reading Time:
3
minutes
It is the ultimate goal of any marketer to have the attention of their target market when it comes to a final purchase.
In early stages of design, a logo is the first step of achieving brand recognition. It is the logo that defines ones brand, and allows us to distinguish one service from another. Upon completion of a logo, it is typical to follow up with custom stationary design, which may include Letterhead, Business Cards, Envelopes and so on. However, does creativity and style really add interest to help sales, and give you a competitive advantage over your competition?
Lets look at this from a simple point of view. If you have received ten business cards all in the same industry, what will you choose first? They all obviously offer the same business and service, but what catches your eye with Business A over Business B? Is it color? Is it layout? Perhaps readability? For whatever reason you decide on, they are all the reasons considered during professional stationary design. These reasons give 'your' brand that extra boost of exposure. Stationary items create an initial first impression, which can be crucial when reaching out to a new business or customer.
Some common rules with stationary design:
Simplicity
Keeping it simple is a great way to deliver a message and a fresh first impression that is not distracting. Typically if you have a second thought about adding something that may be too much, most likely 'it is'. A message should be delivered efficiently!
Typography
An important rule with fonts is never use more than two; it can quickly convert a simple design into something a little harder to read let alone understand for the 'non-designer'. Type should be reflective of the overall brand and not something so individually unique.
Pentagram Design
"Having a well-branded business will assist you in forming a quick relationship with potential customers and clients."
Color
Stationary Design should be cohesive throughout a company's brand and identity. Color can portray different messages and create an emotional response; so keep in mind when choosing the color that it will automatically give off different messages. It has been well discussed that color can be psychological, so the color used in your stationary may communicate a message far greater than the content used.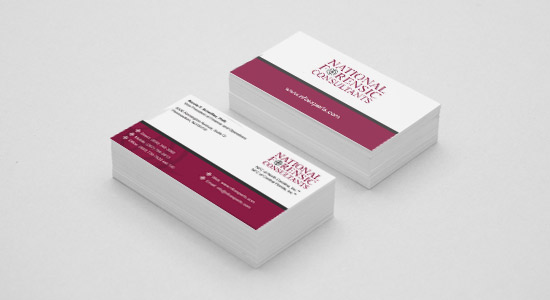 NFC Design
Animal Hospital Stationary
You will find that any large company will say that part of their success is their identity to the public. Having a well-branded business will assist you in forming a quick relationship with potential customers and clients. Creative stationary design may take longer than one may expect but it is one thing that all companies should take their time creating because of the first, and lasting, impression it will make on anyone viewing it.