SEO Startup Guidelines for Small and Medium Sized Businesses
Reading Time:
4
minutes
Organic SEO takes time. A well thought out, long term strategy requiring hard work and dedication. Patience is no doubt a marketer's requirement, as successful SEO strategies combine highly optimized content and establishing authority off-site.
Time4design especially understands that for many small to medium businesses ready to take on the challenge, quick results are imperative to make a firm impression in the digital market place. So what can be done to get things started? Lift your business off the ground with a few of our small-medium sized business SEO guidelines.
Mobile Optimization
If you do not have a mobile-friendly website there have been plenty of warnings already, read more about responsive web design. Mobile-friendliness has been a Google ranking factor since April 2015, referred to as 'mobilegeddon'. However as of May 2016 Google did increase the effectiveness of its mobile friendly ranking indicator, so not all is lost. Google states that a website can still rank well if it has strong, relative content, but it is still recommended to go mobile.
If you are curious, and still unsure, check with Google using their 'Mobile-Friendly Test'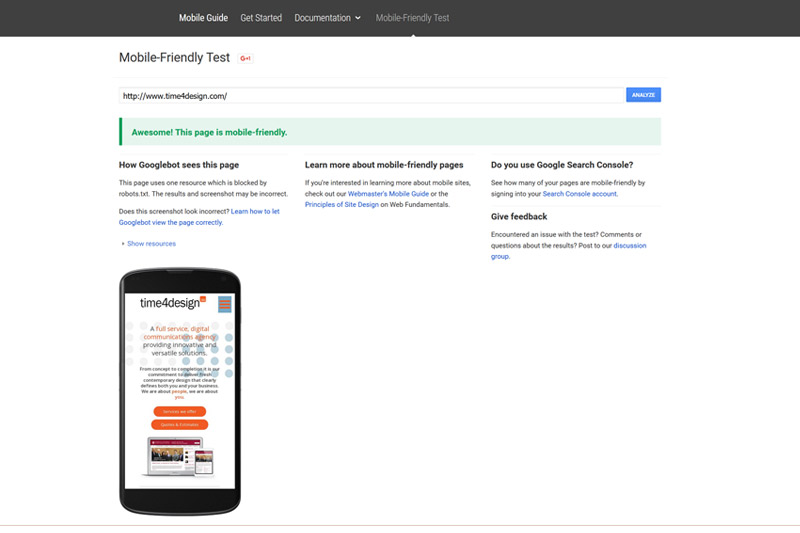 Are search engines blocked?
Really, it does happen more than often, particularly if it is a new website. Pages may have been blocked to search engines using such techniques as 'robots.txt', meta robots tag or directly within the content management system (such as WordPress, see below). Why would it had been blocked in the first place? It could had been related to privacy concerns, content that you might not wish to be detected by search bots. It could also had been pure user error. Check it out!
Site Maps
Sitemaps serve as a way to communicate directly with search engines, alerting them to content that has been changed or recently updated, ready to be crawled. If you are a WordPress user, YOAST SEO is a brilliant tool to help users create a dynamic sitemap, for others there are such useful tools as xml-sitemaps.com.
Search Consoles
There are two main popular search consoles in use, Google Search Console and Bing Webmaster Tools. This should be one of the first things you do once launching a new website. Once setup you will require website verification, however after completion this would be the ideal time to submit your site maps and test robot files for any potential problems. Using search console will help you detect crawl errors with potential pages, 404 errors and broken pages clearly can harm overall rankings
Speed and Performance
The slower a website, the higher probability that a person will leave you site. It also impacts bouncerate and considered a very important factor for SERP's (Search Engine Result Page). Based on an article by Kissmetrics, 47% of consumers expect a page to load within 2 seconds, while 73% general feel that most sites and just too slow.
Generally, a site is slow due to external resources, large imagery, hosting or database issues. It's worth investigating and making sure your website is not part of the clutter. Some use full tools include Google Pagespeed insights and Pingdom.com.
Missing the vital elements
Many services are available to check for missing data; these include such standouts as:
Missing Meta Descriptions
ALT Tags
H1 and H2 tags
Duplicate content (a general rule to avoid all duplicate data)
Broken pages (404's)
Most are paid, but trials are generally available. Plugins are also available for content management systems such as WordPress, so it is worth research to find out what is right for you.
The next step…
When it comes to SEO starting out is not easy, however these tips should make a great start. Taking it to the next level will require a much thought out, long-term strategy.