The best law firm website design features
Reading Time:
5
minutes
Over the years, time4design have successfully designed, developed and strategized some incredible websites for law firms and attorneys.
Whether you are a small boutique attorney firm, or large practice with multiple locations, having a website that can lead to an increase in site engagement and conversion will ultimately make any firm stand out from the crowd. Based on our experience, incorporating some of the following features will help your website gain strength and volume.
Modern law firm web design
Today's modern web design often features bold imagery and hi-resolution photography; however, this may not be the requirements for every specific law firm to gain an extra level of attention. Depending on the size of the firm it is worthwhile to keep imagery at a tasteful minimum. Avoid stock photography if possible, instead use imagery local to your area in addition to group photos.
Websites should also be tailored for all devices of any screen resolutions. As we spoke of in a Making the move to mobile responsive design, Responsive web design will ensure that a custom experience is provided for all, ensuring maximum engagement.
Attorney search
Potential clients who are searching for an outstanding law firm will require two things when they arrive to your website:
An attorney in a specific practice area of law
Information related to an area of law
A well designed website will already factor in site architecture for a Grade A user experience, however most law firm websites will have an incredible amount of information, making it difficult to find a particular piece of information. Such Law firms with a large attorney base will have multiple practice areas and locations, full of resources, so it is worth having a custom design multiple search. Take for example Eastburn and Gray PC global website search, they lend themselves to a useful advanced search to locate attorneys within a specific practice area.
Content marketing
All law firm's websites should maintain a blog or at least a news/media section to encourage perspective clients on valued information that may be useful to them. As a top priority, publicize a blog article at least once a month, written of course by a lawyer of the firm who specializes in that practice area. Lawyers by profession are generally skilled in content creation, so it is advisable to take advantage of this internal resource and generate extra interest to the public. As a huge advantage subject based articles greatly contribute to a law firm's organic SEO, increasing a websites ranking.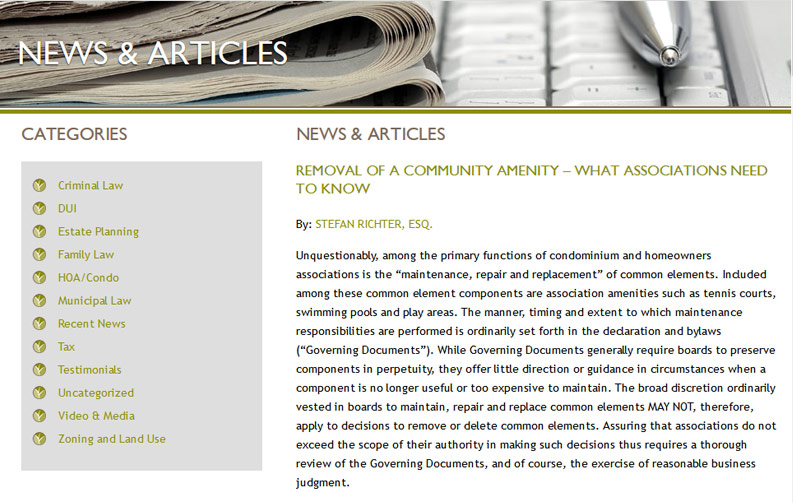 Practice areas landing pages
Practice area pages cover all law areas specialized by the firm; however, they are incredibly useful when considering landing page design. Characteristics of a landing page include:
Optimized content targeting 2-4 keywords related to the expertise
Related blog posts or media
Attorneys that specialize in the practice area
Custom websites or social networks
Schedule a consultation options (call to action)
Live Chats
Practice areas are key pages for a potential client to search for, therefore page content should be specific to detail with careful attention made to primary keywords that will be part a search.
It is also useful to have an area holding aggregating categorized articles by practice area. Articles may become lost on main blog pages over time, however on a practice area page it will be showing for a longer period. It is then highly likely to help result in improved click rates and portray a fresh look each time a user returns
Probably one of the most important features is to make sure that the landing page contains a list of attorneys who practice in the area followed by a call to action so potential clients may reach out directly to schedule a consultation.
Extensive attorney profiles
When choosing a legal representation, you certainly want to ensure you have the right person for the job. Having an extensive profile highlights an attorney's biography, achievements, and contact information. Profiles should be simple in layout and feature some or all of the following:
Contact information (vCard, phone, email, location)
Education and achievements
Professional Affiliations
Awards and Honors
Publications, Presentations and Events
Practice areas
Testimonials
Schedule a consultation (call to action)
Also ensure that a profile can be easily printed. A majority will be assumed to read online, but there will be a few who wish to print for reading later. Having print-ready profiles or dynamic PDF creation warrants that regardless of what printer is used, the final print will look as presentable as it would do in a marketing brochure. A good rule is to cater for all possible ways content might be accessed.
Should social media also be part of a profile? If a law firm engages with its own social media it may not be necessary for an attorney profile to have personal social media (such as LinkedIn, Twitter, Facebook, etc). However, in some smaller firms, the addition of social media profiles adds credibility to the public. Not only does it build their own brand, but it represents an attorneys previous experience with clients.
Convenient methods of contacting the law firm
There should be some level of consistency when it comes to contacting the firm. Generally, contact details will be found in the header, footer and 'contact us' pages. More aggressive methods of contact may include short contact forms on each page or live chat options.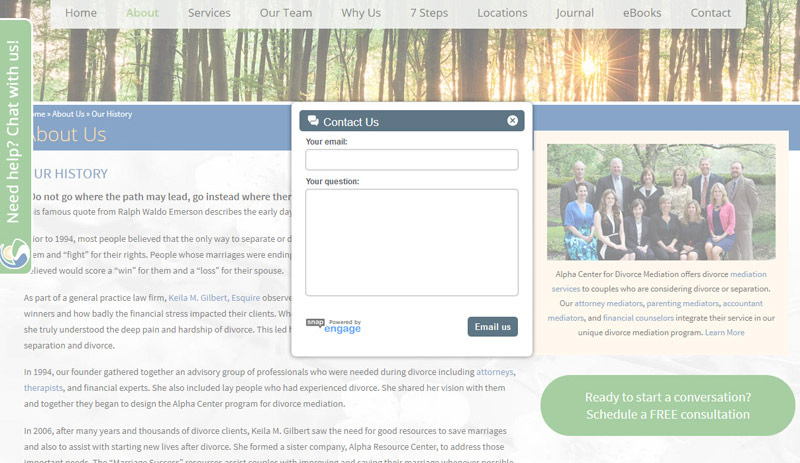 Where a contact form may lead to overcrowded page, the use of a call to actions may apply. Call to actions (CTA) will be obvious to the user with a target message as seen here with Alpha's website.
Conclusion
The law profession without a doubt is not easy, but it does not have to be that way when it comes to your websites success.